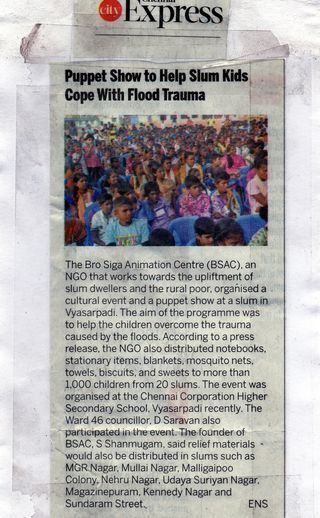 Flood relief by BSAC
On last month of December Chennai has affected by the flood. This flood has been declared as the National Disaster. People living in Chennai and their livelihood has affected by the flood. The Vyasarpadi is also one of the most affected by floods in Chennai. People have faced many problems and lose due to the flood.
People in Vyasarpadi don't have basic need such as foods, water during floods and couldn't go out of the home.
Hut people lost their hut and their shifted into the schools, family members are separated one and other.
People were affected by psychologically, still there are not come out from stress, fears, anxiety etc.
They don't have electricity and network to communicate.
They lost their Cloths, vessels, Certificates, living things and so many things due to floods.
Most of the people in Vysarpadi are doing unskilled daily workers. They couldn't go out for work and doesn't have work during floods. So they faced economic problem.
People also faced health problems such fever, cold, skin problem, ringworm, eczema etc.
Due to flood the government has been declared holiday for schools and college, so the syllabus is uncovered. Some of children lost books, uniforms in floods.
Drainage waters mixed with rain water and it has come in to home, it effected the home appliance.
Flood has been affected their daily life of people.
So BSAC has planned to support for people in Vyasarpadi. Because of heavy rain and floods so BSAC has started to provided basic needs such as foods, water, cloths. We requested and proposed with many organizations, corporate sectors, service sectors to collect resource and bridge the gap between resource and victims. BSAC covered nearly 18,000 families out of 36,000 families in Vyasarpadi. Almost 50% families in Vyasarpadi got benefit from us.
We also support to the 250 Old aged people and we mainly focus to support educational kits for the Children Sangam and supplementary children in Vyasapadi as well as rural area of Ponneri. BSAC has conducted general medical camp in several areas. BSAC has made participation of community volunteers for flood relief works. The following table explains about the issued families and kits:
S.no

Name of Area

Date of issued

No. of family

No. of family issued kits

Lists of kits

1.

Malligaipoo colony

20-12-15

884

884

Supported BUMIKA


Provisions values = Rs.520/-

ü Rice - 5 kg

ü Dhal - 1 kg

ü Oil - 1 kg

ü Tamarind - ½ kg




ü Tea powder - 250 g

ü Salt - 250 g

ü Sugar -

250 g

ü Turmeric powder -250 g

2.

Samanthipoo colony

27-12-15

420

420

3.

Sundharam main road

27-12-15

387

387

4.

M.G.R Nager

20-12-15

705

705

5.

J.J. Nager

27-12-15

458

458

6.

Appu Street

27-12-15

191

191

7.

Debbar Nager

20-12-15

575

575

8.

Nehru Nager

17-12-15

576

576

9.

Kasturibai colony

27-12-15

817

817

10.

Udhaya suriyan Nager

31-12-15

858

858

Supported by CESVI

ü Mat - 1


ü Dhal - ½ kgü Rice - 1 kg

11.

Kennadi Nager

31-12-15

650

650

12.

Puthu Nager

19-12-15

96

96

ü Rice Oil

ü Mat Soap

ü bed sheet Brush

ü bread To

oth paste

ü biscuits Water bottle

13.

S.M Nager

11-12-15

400

400

ü Mat

ü Vegetables

14.

A- Kalyanapuram

20-12-15

450

450

ü Mat

ü Rice

ü Biscuits

15.

B- Kalyanapuram

13-12-15

849

849

ü Mat

ü Breads

ü Biscuits

ü Water bottle

16.

C- Kalyanapuram

12-12-15

1336

1336

ü Mat

ü Rice

ü Milk

ü Vegetables

17.

Gandhipuram

09-12-15

208

208

ü Old cloths

ü Rice

ü Bread

ü Mat

ü Toiletry items & Napkins

18.

Mullai Nager

08-12-15

244

244