Covid-19

Appeal for Funds – COVID-19
Dear well-wisher and philanthropist,
Appeal from Bro.Siga Animation Centre,
All we aware that our Country India, is threatened with the spread of COVID-19 (Corona Virus) an Epidemic already been declared by Govt. of India as a pandemic and entire lock down throughout India since from 23rd March to 14th April 2020. Further the Govt. of India extended a curfew (lock down) till May 3rd 2020.
In this grim situation, in Tamilnadu has stands second place in India and Chennai is top with affected by Corona diseases. Particularly our target community and beneficiaries are in North Chennai, especially Vyasarpadi, is considered one of the most backward area in the Metropolitan city of Chennai. It is almost inhabited by the poorest of the poor and presents the dynamics of an Urban Slum Population. The area was inhabited by those working as coolies an unskilled workers in and around Chennai . Majority of them belong to SC and lower caste groups.
In this crucial situation, let us join together and support the needy people for their survival and to feed children and elders importantly with basic essential food materials for one-month periods. We appeal all help us to serve needy people due to total lock down and they lost their daily earnings.
The following essential basic food materials will be distributed combined as one kit for one family. Proposed to support totally 500 disadvantage families of our target community beneficiaries with cost of Rs.1800/- per kit.
Provisions:
Rice 10 kgs
Toor Dhall 1 kg
Salt 250 pkt
Oil 1 kg
Sugar 1kg
Chilli powder 100grm
Turmeric powder 100grm
Dalia Rava 1 kg
Wheat flour 10 kgs
Onion 3 kgs
Potato 3 kgs
Chickpeas 2 kgs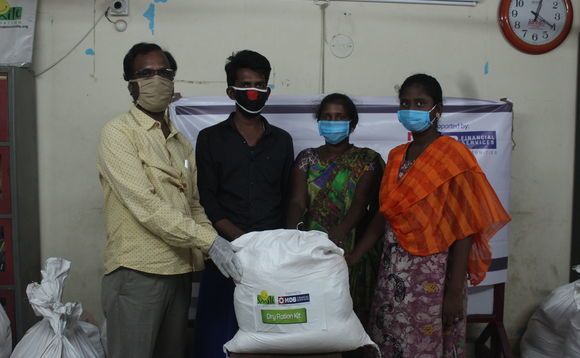 Your contribution towards COVID'19 relief work for One or more families/One month or less than one month may donated through online portal in our website: