COVID"19 CASE STUDIES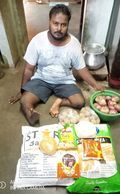 Family background:
Mr. Tamilarasan is a differently abled person living with his aged mother and wife, living in S.M.Nagar, Vyasarpadi is totally breadwinner of the family defending the income of Tamilarasan who is working in a small book company as daily wager as a Packager and earning 200 for day. With the meagre daily income they living in rented house and taking care
Current situation: of their medical expenses and survival of the family.
COVID'19 Country Lockdown and curfew imposed by the Govt. of India and Tamil Nadu, he was badly affected and stayed in house only. As a disabled person he cannot move to anywhere due to strict imposed lock down for any help from others to get the provisions for cooking purposes. His working place also shut down and no help from the company as he is daily wager no support provided to him. He was much suffered for day to day survive till our relief support reached him from Smile Foundation through Bro.Siga Animation Centre.
Testimonial (post distribution):
His family is very much happy that unexpectedly he has received the essential materials for cooking has provided to him by identified and distributed timely. He also expressed his happiness and himself for sent the photographic with the provisions supported him through whats up. He has declared that this provision may help him for at least one month for his family to survive even the lockdown extended for some time more. He feared that if the lock down is continuing still needs to support further by the likeminded NGO's.

கோவிட்'19 ஊரடங்கு‍ உத்ரவால் திருநங்கைகள் பாதிப்பு
வியாசர்பாடியில் வசிக்கும் பத்து‍ திருநங்கை குடும்பத்தினர்கள் அரசு‍ ஊரடங்கால் தங்களுக்கு‍ எந்தவிதமாக வருமானமும் இல்லாமல் வெளியே வரமுடியாத நிலையில் அன்றாட உணவிற்கு‍ அவதிப்பட்ட நிலையில் அவர்களை கண்டறிந்து‍ ஒரு‍ மாதத்திற்கான உணவுப்பொருட்கள் வழங்கப்பட்டது.